So you've chosen to pursue a career in cloud infrastructure and development. Or maybe you're leaning that way. It's a major decision, but not the only one you'll have to make.
Are you going to go down an AWS certification career path? Or perhaps you'll focus on a Microsoft Azure or Google Cloud certification path? Or maybe you'll be a master of muli-cloud?
---
Accelerate your career
Get started with ACG and transform your career with courses and real hands-on labs in AWS, Microsoft Azure, Google Cloud, and beyond.
---
The cloud is a vast space, and deciding which disciplines, certifications, and cloud platform (or platforms) to pursue can have a big impact on your future career opportunities. And if you're considering a career in cloud you're probably asking yourself lots of questions, like what are the highest paying cloud certifications? And which cloud certification is best for me?
It's a lot to consider! But there's some good news…
Certifications can increase your value to employers
Almost any certification should be a feather in your cap. There's plenty to break down when weighing the value of certifications for you, but one of the obvious ones is the potential for fresh, certifiable skills to increase your salary and open up new career opportunities.
80% of people say a higher salary was a direct result of a cloud computing certification, according to ACG's State of Cloud report.
52% say cloud certifications expanded their career opportunities.
$12,000–$13,000 USD is the average raise IT pros who gained new skills and/or certifications reported receiving, according to Global Knowledge.
So, how much can certifications and cloud skills increase your paycheck by? And which cloud jobs offer the biggest salaries on average? Let's dig in!
---
Top-paying cloud certifications FAQs
---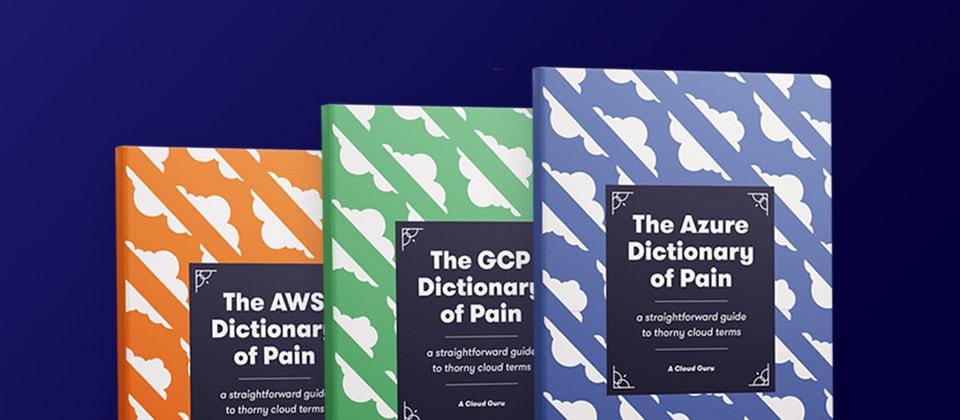 Get the Cloud Dictionary of Pain
Speaking cloud doesn't have to be hard. We analyzed millions of responses to ID the top concepts that trip people up. Grab this cloud guide for succinct definitions of some of the most painful cloud terms.
---
What's the demand for cloud skills in 2021?
Demand for cloud skills continues to grow. Doing the math on why employers would cough up more to land talent with cloud skills is simple. In our State of Cloud report, 82% of hiring managers report cloud certs make a candidate more attractive.
And the demand for cloud skills continues to rise. A 2020 report from CBRE tracked the demand as a 12% year over year increase and said that the typical turnover rate is at 42% — "well above the US average for all tech skill sets, which is another indicator suggesting robust hiring demand."
How much do cloud jobs pay?
The amount cloud jobs pay can vary by location (and the numbers reported vary by source).
Cloud engineers are earning an average base salary of $117,000 USD, according to Indeed. While CBRE reports cloud computing pros are earning a much-higher average salary of $153,000 USD.
Global Knowledge finds that the average cloud computing professional in the U.S. pulls in $160,000, adding: "…IT decision-makers are struggling to find qualified candidates for cloud job openings."
What about a cloud architect's salary? Cloud architects enjoy even higher annual pay, with ZipRecruiter reporting

average salary nationwide at more than $153,000 and ranging from $89,000 to as high as $210,000.
---
Looking to level up your cloud career? Get started with A Cloud Guru for free and see how our hands-on approach can help you master modern tech skills.Check out our current free cloud courses or test your knowledge with our cloud skills assessment.
---
What are the highest-paying cloud salaries?
A Statista survey found that Senior Solutions Architects earn the highest average salary across cloud jobs, bringing in an average of $141,000 USD.
Randstad research reports that some of the most in-demand cloud jobs of 2021 will include:
| | |
| --- | --- |
| Cloud engineers | $132,866 USD |
| DevOps developers | $137,830 USD |
| .NET developers | $131,070 USD |
| Machine-learning engineers | $137,513 USD |
| Security analysts | $124,892 USD |
Some of the highest-paying IT positions that may require cloud skills include the following, with average salaries reported by PayScale.
| | |
| --- | --- |
| Chief Architect, IT | $168,000 USD |
| Principal Architect | $158,000 USD |
| IT Director | $153,000 USD |
| Seniors Solutions Architect | $141,000 USD |
| Enterprise Architect, IT | $139,000 USD |
| Cloud Solutions Architect | $127,000 USD |
| DevOps Engineer | $100,000 USD |
---
Watch: The State of Cloud
No one can predict the future, but we asked a panel of very smart cloud pros to try anyway. What does Jassy moving up to Amazon CEO mean for AWS? Is this the year of multi-cloud? Our lively, unfiltered panel weighs in on the year ahead in this free, on-demand webinar.
---
What are the highest paying cloud certifications?
Cloud, data, and cybersecurity are regular areas of tech investment for businesses, so it's no shocker that many of the top IT certs tend to be around those areas. IT pros with these skills remain in high demand and tend to pull in the biggest salaries in the industry.
But let's cut to the chase. Which AWS, GCP, and Azure cloud certifications offer the most bang for the buck? How much can you earn as a cloud-certified IT pro?
1. Google Certified Professional Cloud Architect
Average salary: $139,000–$175,000 USD

While Google Cloud (GCP) may be third in public cloud usage, this challenging certification has been number one across multiple lists of top-paying IT certifications since it became available in 2017.
2. Microsoft Certified Azure Solutions Architect Expert
Average salary: $119,000–$152,000
Achieving this Microsoft certification and taking down its dual daunting exams, the AZ-303 and AZ-304, is one of the most challenging feats in cloud certification. No surprise that CIO calls it one of the most in-demand IT certifications for 2021.
3. AWS Certified Solutions Architect – Associate
Average salary: $113,000–$149,000 USD

The AWS Solutions Architect – Associate is the most popular AWS certification, which means it's arguably the most popular cloud certification out there. The most likely job role for people with this cert is "cloud architect," and 75% of cloud architects have earned one of the AWS Solutions Architecture certs; 28% have both, according to Global Knowledge.
4. AWS Certified Solutions Architect – Professional
Average salary: $129,000–$133,000 USD

The CSA Pro is one of the most challenging and well-respected certifications in IT. It was projected to be the most pursued cloud certification in Global Knowledge's survey.
5. AWS Certified Cloud Practitioner
Average salary: $131,000

The AWS CCP is step one on the cloud path for most. Around 12% of U.S. IT pros planned to go after this certification in 2020. On average, an AWS CCP certification-holder has more than five certs under their cloud belt, according to Global Knowledge.
6. AWS Certified Developer – Associate
Average salary: $101,000–$130,000

After staying in the top five on Global Knowledge's list for 2018 and 2019, this cert dropped off in 2020. But Indeed reports that demand for skilled developers continues to be high. People with this certification have the technical chops to develop and maintain apps on AWS.
7. Microsoft Certified: Azure Fundamentals
Average salary: $127,000

This cert covers the basics of Azure. (It would be Azure 101 if certification names made sense.) So why is an intro-level certification landing a top spot on the list? And why is it one of the top-paying Azure certifications? It's likely because there are so many roles that can benefit from the fundamental understanding of cloud and Azure that comes with it — meaning it's not just Azure engineers and architects but cloud-adjacent folks, from leadership to sales to support, in the mix too.
8. Microsoft Certified: Azure Administrator Associate
Average salary: $80,000–$126,000

The Azure Administrator Associate is not only one of the top-paying certs, it's also the most sought-after Microsoft Azure credential.
---
Interested in upscaling or beginning your journey with Cloud Development? A Cloud Guru's AWS Developer Learning Paths offers custom courses fit for beginners and advanced gurus!
---
AWS vs Azure vs GCP: Which cloud is the most valuable to employers?
How do the big three cloud providers compare? When looking at big-picture, across-all-roles salaries based on public cloud skills, AWS just barely edges out Google Cloud for the highest average salary across jobs, according to PayScale (AWS, GCP, Azure March 2021).
| | |
| --- | --- |
| Cloud Provider | Avg. Salary Across Jobs |
| Amazon Web Services (AWS) | $106,210 USD |
| Google Cloud (GCP) | $105,454 USD |
| Microsoft Azure | $96,649 USD |
When we look at some sample average salaries via PayScale for a few different equivalent positions with AWS, GCP, or Azure skills, we see the salaries can range pretty dramatically.
| | | | |
| --- | --- | --- | --- |
| Job Title | Amazon Web Services (AWS) | Google Cloud (GCP) | Microsoft Azure |
| Cloud Solutions Engineer | $95,000 USD | $120,000 USD | $90,000 USD |
| Senior Software Engineer | $126,000 USD | $120,000 USD | $112,000 USD |
| Cloud Solutions Architect | $124,000 USD | $150,000 USD | $130,000 USD |
| Site Reliability Engineer | $120,000 USD | $155,000 USD | $107,000 USD |
| DevOps Engineer | $99,000 USD | $86,000 USD | $101,000 USD |
---
Watch: Post-COVID DevOps – Accelerating the Future
How has COVID affected — or even accelerated — DevOps best practices for engineering teams? Watch this free, on-demand webinar panel discussion with DevOps leaders as we explore DevOps in a post-COVID world.
---
How do you pick the cloud career path that's best for you?
You might not want to hear a cliche while you're picturing yourself behind the wheel of an Italian sports car, but money isn't everything and probably shouldn't be the sole factor in planning your future cloud career. It might seem logical to simply select the certification with the promise of the highest average pay. But there are other things to consider.
You might want to give thought to which cloud you're going to focus on.
AWS is the clear market leader among public cloud platform providers, with 76% of global enterprises running apps or experimenting with them on Amazon's cloud, according to Statista. Microsoft is second with 63% market penetration and Google is third with 35%.
A cloud platform's greater market share doesn't necessarily mean higher pay for the professionals who work with it. In fact, expertise on a smaller-but-growing platform can be lucrative. Google Cloud Platform, for example, doesn't have the market penetration of AWS or Azure, but its top certification yields the highest average salary for cloud professionals.
That's not to say you should ignore market share! A platform's adoption and popularity can help you assess the health of the job market in your area.
On that front, AWS careers offers as close to a guarantee of employment as you can find, while Azure is a strong second. Of course, cloud skills are in such high demand that opportunity is out there, whichever platform you choose to specialize in.
Your situation might also point you toward a particular certification track. Maybe your current career would benefit from going deeper in a specific discipline or expanding into a different cloud platform. Perhaps your employer's roadmap calls for a specific set of skills that a certification could position you to meet. It's always smart to consult with mentors, recruiters, and peers about which path to choose.
Online communities — such as LinkedIn groups, cloud-related subreddits, our own discussion forums, or the ACG Discord server — can also provide valuable insights from a wider field of professionals.
And remember, it's not like you're limited to the first cloud certification you choose. Getting certified within and across cloud platforms isn't just a possibility, it may be a requirement at some point as you advance in your cloud computing career. According to Global Knowledge, some 64% of cloud professionals were cross-certified in 2020, and that number is expected to grow.
---