Editor's note: Want the latest free courses at ACG for this month (as in, the month you're reading this article in… right this second)? We've got your covered over here. Head over there and bookmark so you don't miss out!
---
What courses are free at A Cloud Guru this month? More courses than ever! Get your hands cloudy with 25 top-shelf selections from our super-sized stash of hands-on cloud learning. 
May's line-up includes some new and notable additions to the ACG free tier line-up, including:
These five courses join 20 other free cloud courses designed to level up your cloud IQ — from Kubernetes to DevOps to courses specific to Amazon Web Services, Microsoft Azure, and Google Cloud Platform.
These 25 courses are totally free. Just sign up for a free ACG account here — or get started with the full A Cloud Guru experience with a free 7-day trial. Or check out our current ACG specials and discounts.
---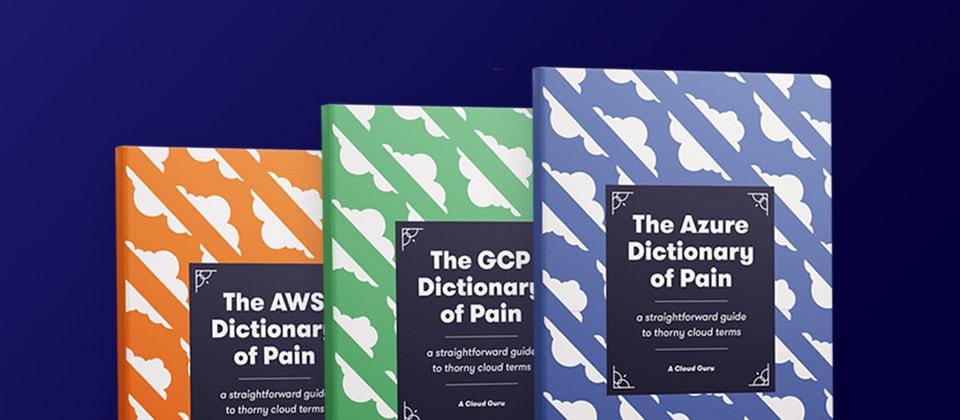 Get the Cloud Dictionary of Pain
Speaking cloud doesn't have to be hard. We analyzed millions of responses to ID the top concepts that trip people up. Grab this cloud guide for succinct definitions of the most painful cloud terms.
---
Free Amazon Web Services (AWS) courses
AWS is the leader in public cloud and IaaS, with some of the top-paying certifications and jobs in cloud. Whether you're already on an AWS certification path or you're looking to master some of the most in-demand AWS skills, these free AWS courses are a great place to start.
---
Automating AWS Cost Optimization
AWS provides unprecedented value to your business, but using it cost-effectively can be a challenge. In this free, on-demand webinar, you'll get an overview of AWS cost-optimization tools and strategies.
---
Free Microsoft Azure courses
Microsoft Azure certifications are among the top-paying certs in cloud.
This months' line-up of free Azure courses includes courses for the dual exams needed for the Microsoft Certified: Azure Data Engineer Associate. (The exams for this cert get a major update and retire on June 30, 2021, which means you have a few weeks to study up and get certified before the new requirements drop!)
---
Free Google Cloud (GCP) courses
Plotting your Google Cloud career path can be tricky. These free GCP courses offer something for beginners and practitioners alike.
---
Post-COVID DevOps: Accelerating the Future
How has COVID affected — or even accelerated — DevOps best practices for engineering teams? Watch this free, on-demand webinar with DevOps leaders as we explore DevOps in a post-COVID world.
---
Free DevOps and serverless courses
Whether you're looking to learn more about the basics of DevOps and agile or the different serverless options between AWS, Azure, and GCP, A Cloud Guru can help you level up your DevOps game.
---
Free cloud courses for beginners
These intro and conceptual courses are perfect for newcomers to cloud and tech or non-technical roles who want to have a better understanding of the tech that powers modern organizations.
---
Free Linux courses
---
Get the skills needed for a better career.
Master modern tech skills, get certified, and level up your career. Whether you're starting out or a seasoned pro, you can learn by doing and advance your career in cloud with ACG.