A Cloud Guru can help you advance your career in the cloud. Whether you're totally new to tech or an experienced AWS engineer, you can develop cloud skills with our hands-on library of AWS certification courses, Microsoft Azure training, and content around Google Cloud (GCP), DevOps, Kubernetes, Linux, and beyond.
But why learn cloud with ACG? Cloud skills are in high demand — some of the most in-demand skills for six years running, according to LinkedIn. Not to mention, cloud jobs are among the top-paying tech career salaries.
With the largest, hands-on content library for cloud skills development, ACG can help you get certified, master modern tech skills, and level up your career.
OK. That sounds great and all, but as a busy, budget-conscious learner, how can you get a discount on AWS, Azure, and Google Cloud courses? Read on!
Current A Cloud Guru promotions and sales
Best Black Friday ever? Save 40% on ACG!
Looking for a Black Friday / Cyber Monday discount on cloud training? For a limited time, get 40% off A Cloud Guru personal annual plans and get the best hands-on cloud learning at our best price ever. 
As of June 2021, all of ACG's individual and business plans now have new lower prices. Other changes include our Personal Plus plan now being available on a monthly basis. All existing customers will receive the lower pricing at their next renewal. Check out our pricing page for more info.
Looking for more deals? Check out how you can take advantage of ACG promotions below:
---
Up to 47% off for students
Master the skills that'll drive your career – and save a boatload. Students are eligible to save up to 47% on annual full access to our unlimited hands-on learning library. All you need is a .edu, .ac.uk, or .edu.au email address*.
---
But what if it's the future when you're reading this? First, greetings from the past! (And, hey, if you want to hop in a Delorean and sneak us a copy of a sports almanac, we promise not to turn the Hill Valley courthouse into a casino.) Second, you can check out our current ACG pricing options. Prices are subject to change, so if the price is looking nice, get on it!
Free cloud learning
What if there's not a current special? Stop scouring the internet for meh free Azure certification courses, an AWS student discount, or a Google Cloud course discount. Deals are dandy, but you can't beat free. Here's how you can get A Cloud Guru for free.
Free AWS, Azure, and GCP certification training
Get full access to our entire library of hands-on cloud training and certification courses with a free trial. Or, sign up for a free-tier membership and get access to a rotating line-up of free AWS, Azure, and GCP certification courses. Check out this month's free courses or hop over here to see the latest courses featured for ACG's free tier.
Free cloud resources
You want cloud resources? We've got enough resources to make Sid Meier proud. Increase your cloud IQ with ACG's vast library of free cloud resources.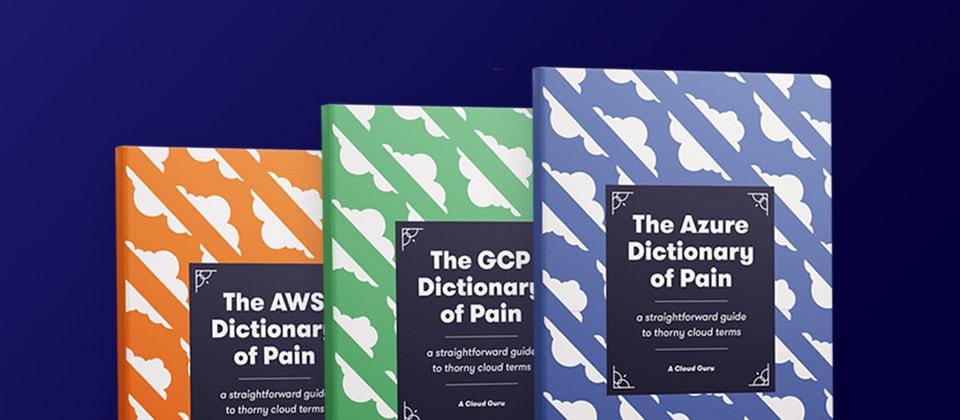 The Cloud Dictionary of Pain
We analyzed millions of responses to ID the top terms and concepts that trip students up. In this cloud guide, you'll find succinct definitions of some of the most painful cloud terms to learn for AWS, Azure, and Google Cloud.
Previous promotions
Ahh, the sweet taste of nostalgia. Remember that big Black Friday deal?
2021 Spring Promo, Save 20% off personal plans and business plans. Till next spring cleaning!
Looking for a Linux Academy discount or Linux Academy coupon code and wondering why you're here? A Cloud Guru and Linux Academy joined forces in late 2019.
Stop hunting for Azure, Google Cloud, and AWS promo codes. Sign up under a promotion or get a free trial to browse the largest hands-on cloud-learning library in the world.