There are many job opportunities and career paths available if you have some GCP experience under your belt! We've done the hard work and collated a list of some of them along with their US salary estimates, courtesy of Glassdoor.
How to get a cloud computing job
Here's the thing: Cloud certifications aren't a guarantee you'll get a cloud job (much like any certificate). There's no denying they can help you jump-start your cloud career, but when it comes to landing that cloud computing job, hands-on experience is what will really make you stand out.
Certifications are proof that you understand concepts, but your ability to apply what you've learned is what hiring managers are really looking for. So while you're studying, make sure you're also taking the time to build things out in hands-on projects. Have something tangible that you can point to on your CV which says, "I know all the things, but I can also do all the things!"
---
Accelerate your career
Get started with ACG and transform your career with courses and real hands-on labs in AWS, Microsoft Azure, Google Cloud, and beyond.
---
Google Cloud DevOps Engineer
Average yearly salary: $110,759 USD
Can't decide whether you prefer a development environment or an operations environment? Why not do both! A DevOps Engineer is responsible for building and supporting cloud environments, as well as developing and driving continuous automation of cloud operations.
While it varies from organization to organization, the responsibilities of a DevOps Engineer will include some combination of:
Release engineering
Infrastructure provisioning and management
System administration
Security
DevOps advocacy
If you're familiar with Google Cloud Platform architecture, Infrastructure as Code, DevSecOps, GitOps, CI/CD, and scripting languages, DevOps Engineer is the right job for you.
Google Cloud Architect
Average yearly salary: $ 144,037 USD
This is the role most people who are just getting into cloud as most familiar with (or have heard the most about.) As the role name suggests, a Google Cloud Architect is in charge of architecting, designing, and building robust scalable cloud solutions. But you may also be looking at things like:
Technical discovery
Application design and implementation
Cloud adoption planning
System management and monitoring
Establishing organization best practices for cloud usage
Find out more about what's involved in "So You Want to Be a Cloud Architect".
Google Cloud Developer
Average yearly salary: $103,193 USD
A Google Cloud Developer designs and builds secure, scalable, and highly available cloud applications. Just like a standard IT developer, the Cloud Developer will use the same software and tools to build these applications, but will leverage resources from the cloud. Working with cloud-native applications, your role will likely involve:
Analyzing needs
Designing systems and solutions
Coding and debugging
Working with managed services and next-generation databases
If you're the kind of person that likes to play around in the sand, building those castles, this is the one for you.
---
---
Google Cloud Network Engineer
Average yearly salary: $98,485 USD
There's a joke somewhere here about how careers are built on networking… Unfinished jokes aside, network engineering is all about implementing and managing network architectures. You might find yourself working with Cloud Architects as they design the cloud infrastructure, but you'll be focussing on:
Leveraging network services
Implementing VPCs
Understanding hybrid and multi-cloud connectivity
Securing new and established network architectures
Google Cloud Security Engineer
Average yearly salary: $121,150 USD
No matter the organization, product, or field, security will always be needed. And it's more than just dissuading team members from using "Password123". As a Security Engineer, you'll be designing and implementing secure workloads and infrastructures in line with security best practices and industry requirements. The Security Engineer might be:
Defining organizational structure and policies
Implementing identity and access management best practices
Configuring network security defenses
Monitoring logs and managing incident responses
Whether you're looking for job security or a security job, you can dig a little deeper in "So You Want to Be a Security Engineer".
Google Cloud Data Engineer
Average yearly salary: $118,206 USD
If it's been your dream to be Data since Star Trek first graced our screens, we can't offer much advice there. But perhaps the next best thing to living out your Trekky dreams and actually becoming Data is to become a Data Engineer! (Okay maybe that was a bit of a stretch, but stay with me folks.)
The Cloud Data Engineer enables data-driven decision making by collecting, transforming, and publishing data. We're talking:
Design, build, operationalize, secure, and monitor data processing systems
Develop and maintain data assets from a variety of structured or unstructured sources
Develop, test, and deploy code
Analyze systems to support discoveries, architectural, and solution design.
Sticking with the future technologies theme though – how do you feel about machine learning? Maybe you see yourself as more of a John Connor-style hero and want to understand, manipulate, and train the machines? Well, this will also be the role for you as you'll be leveraging, deploying, and training pre-existing machine learning models.
---
Developer Relations and Advocacy
Average yearly salary: $100,000 – 110,000 USD
Maybe you don't just want to get your hands dirty in the details, you want to help others learn all the things you've learned (and continue to learn too). A career in Developer Relations might be what you're looking for. This is a fairly new discipline, so your responsibilities will vary depending on your organization. But generally as an advocate in Developer Relations, you might find yourself:
Presenting a talk at a conference or event
Putting together a web series or podcast that discusses the latest GCP news
Connecting with the community
Consulting internally on strategy
Learning all the things
If tech evangelizing and continuous learning are on your brain, then you'll want to know how to get into DevRel.
How to get a cloud computing job after getting a Google Cloud certification
Cloud computing is here to stay, so there's no better time than now to start your career in cloud. Study hard and practice your hands-on skills. Dedicate yourself to discovering all there is to discover about Google Cloud Platform, and you'll keep yourself as a top prospect in the job market, regardless of which domain you choose to apply yourself to.
Ready to begin your cloud career? Develop your cloud skills and take the next step with A Cloud Guru's certification prep courses.
More about GCP careers and opportunities
---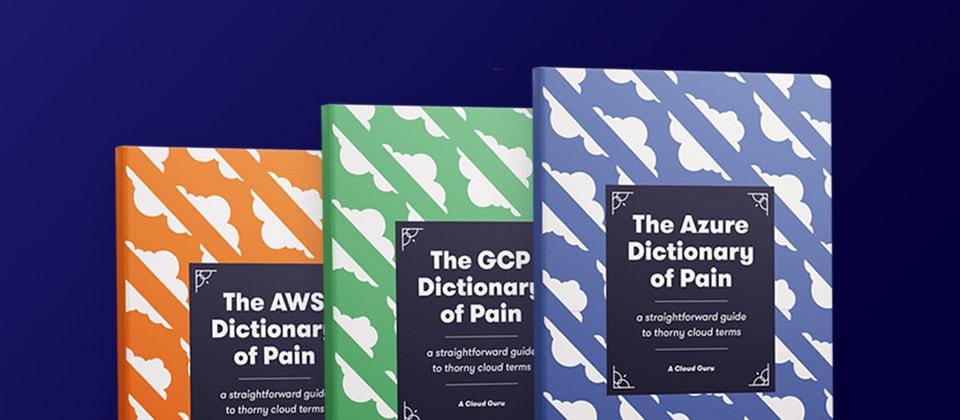 Get the Cloud Dictionary of Pain
Speaking cloud doesn't have to be hard. We analyzed millions of responses to ID the top concepts that trip people up. Grab this cloud guide for succinct definitions of some of the most painful cloud terms.