A lunar AWS region? Route 53 Database? We call longshots and sure things before the big show
AWS re:Invent 2021 is nearly here. After being fully virtual for re:Invent 2020, re:Invent is back in Las Vegas. In that Vegas spirit, we gathered a panel of AWS Heroes for a round table discussion to place wagers on what we might see (and what we almost certainly will not see) at re:Invent 2021.
If you're going to attend re:Invent either in-person or virtually, make sure you go all in on our Ultimate Guide to re:Invent 2021.
---
Accelerate your career
Get started with ACG and transform your career with courses and real hands-on labs in AWS, Microsoft Azure, Google Cloud, and beyond.
---
Want to sit in on the full discussion? Pull up a chair and watch the free, on-demand webinar, re:Invent 2021: What to Know Before the Big Show.
Quotes below have been edited for brevity, clarity, and general awesomeness. You can bet that any errors or mistakes are likely on the part of the editor.
Compute & Containers
Ryan Kroonenburg, founder of A Cloud Guru and AWS Community Hero, shared the following bets for what he expects around compute and containers out of re:Invent 2021.
Sure bets: Expansion of EC2 instances and support for bare metal with EKS Anywhere
"This month, AWS announced an upgrade to the G4 to the G5. These are basically instances powered by Nvidia A10GTEnsor-core GPUs that deliver around 3x performance for graphic-intensive and machine learning workloads. But I'm sure we'll see some other upgrades," Ryan said.
"For another sure bet, if you read the documentation for EKS Anywhere, they've said they're going to provide bare metal support for EKS Anywhere in 2022. So I wouldn't be surprised to see that announced at re:Invent as well," Ryan said.
Containers are almost a necessary evil as people migrate more to serverless architecture, and EKS and ECS Anywhere is a good example of meeting people where they are.
We expect no shortage of containers announcements at re:Invent 2021. What are they? We'll see. (But fingers crossed for a map to figure out where to run them.)
Even money: Upgraded EFS storage
"At re:Invent last year, they upgraded gp3 and I/O. In September, AWS announced intelligent tiering for EFS, and it's very similar to the way they do intelligent tiering with S3," Ryan said. "But they haven't done any performance upgrades for EFS recently."
Longshot: New lunar AWS Region
Sure, it's not going to happen, but it would be pretty cool. And if they need any help setting it up, Ryan has volunteered to assist build a lunar data center.
"I reckon there's going to be some sort of cloud on the moon by 2030," Ryan predicted.
You heard it here first. (Someone set up a reminder to check back on this in 9 years.)
Databases
Matt Lewis, Chief Architect at DVLA and AWS Data Hero, placed his bets for what we'll see around database news out of re:Invent this year.
Sure bet: More direct integrations to and between database engines
"This is one of those things that we've seen over the last couple of years," Matt said.
In the past, there were so many places where there was a need to write custom Lambda functions to act as glue. Now there have been improvements, but there's more to go.
"I think cutting out some of those repetitive steps that you have to do as a developer is one of those sure bets and something we'll start seeing more announcements around," Matt said.
Even money: Serverless Aurora v2 with Data API
All the goodness of Aurora without RDS Proxy!
Longshot: Route 53 Database
"I don't know if it's jokingly, but you keep hearing more people talking about Route 53 as a potential database. There's a service commitment around 100% from AWS, the TXT record you can store up to 4,000 characters in multiple strings," Matt said. "So you know, maybe AWS will recognize that and you'll also be able to find Route 53 in the database category in the AWS console."
Will it happen? Maybe there's a need for the AWS Lunar region in order to create the Route 53 Database.
Machine Learning
The amount of stuff going on with SageMaker is wild these days. We got a ton of updates last year, a custom chip was introduced, and we saw machine learning being implemented into other services.
Our machine learning maestro Kesha Williams, Principal Training Architect at A Cloud Guru and AWS Machine Learning Hero, offers the following re:Invent predictions — with a disclaimer: "All of these are longshots honestly, so don't bet on me!"
Sure bet: Amazon CodeGuru to support additional languages
"Amazon CodeGuru currently only supports Java and Python," Kesha said. "I imagine AWS will continue to expand that by adding new languages."
Even money: New machine learning capabilities added to Amazon Connect
"Last year, AWS rolled out Voice ID to identify the caller, Contact Lens for more sentiment analysis, and Wisdom. And they just rolled out a predictive dialer feature. At re:Invent 2021, I think there will be a lot of focus on Amazon Connect and adding more cool machine learning features," Kesha said. "But we'll see!"
Longshot: AWS DeepDrone, an autonomous drone that integrates with Amazon SageMaker
Have we gone off the deep end or would a DeepDrone be super cool?
"This plays off what I call the 'deep toys,' things like DeepLens, DeepComposer, and DeepRacer," Kesha said. "I would love to have DeepDrone, an autonomous drone that I can load my SageMaker models onto. It sounds like it would be so much fun to play with."
"It also sounds very dangerous," Ryan joked. "And it would be extremely dangerous if I loaded my machine learning models on it."
---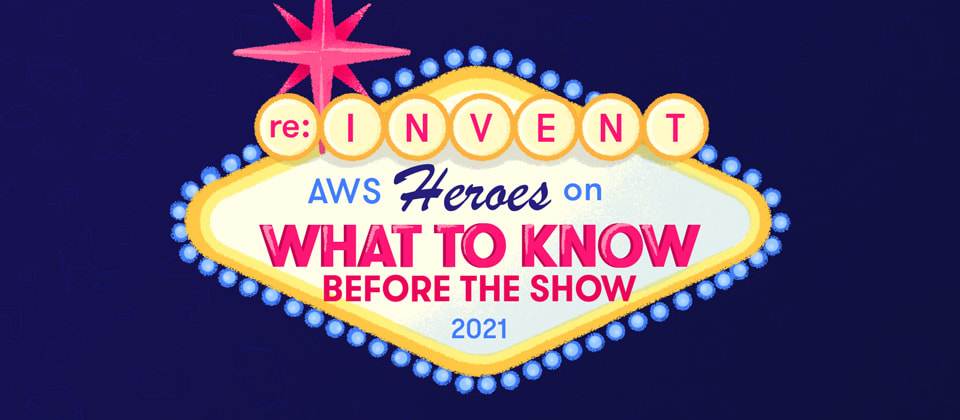 Watch re:Invent 2021: AWS Heroes on What to Know Before the Show — for our big bets on what to expect and the keynotes we're most looking forward to.
---
Security
Side bet: how much shade will be thrown at other cloud providers' recent security-related issues? 2021 was a reminder that security is something we take for granted (as if we needed another reminder).
When it comes to predictions around AWS security-related announcements, we turn to the one-and-only Mark Nunnikhoven, Distinguished Cloud Strategist at Lacework and AWS Community Hero. Here's where he's putting his Canadian dollars.
"I went boring with my bets because it's a cleanup year for security," Mark said. "It's like that 'dot' release where you're like, 'We have to clean up a bunch of this stuff before we really push forward.'"
Sure bet: AWS Security Hub gets easier to use
Mark's sure bet is that we'll see "something" around updates to AWS Security Hub, including enhancements to its UI and deployment model that will make it easier to use.
"Right now when you try to deploy it, it's per region, per account. Yeah, you can automate some of that, but it gets tricky to figure out some of the data modeling. So making it one-click to go across an organization would be wonderful. But more importantly than that, in the UI right now it's really basic. It gives you all these findings, and that's great: it's a centralized place to see all this security information. But that's where it stops. It doesn't help you make sense of that security information. Like "Hey, you should be doing something about this!" Or, "These two things are connected!"
This could be a great place for extending machine learning models into. We saw that with GuardDuty, but putting it right into AWS Security Hub to operate at a higher level would be good.
"There's help needed here in some shape or form," Mark added. "Anything! Anything would be a benefit here!"
Even money: Amazon Inspector gets a complete relaunch à la Amazon Macie
Inspector is there and does its job, but it's been long forgotten and needs to be modernized. Mark bets on a full relaunch, though it probably leans more toward a longshot in reality.
Longshot: New features for AWS IAM making cross-account access and its exposure simpler to manage
"This is less likely than the Lunar region, for sure," Mark said. "This is one of the biggest sore spots I encounter when talking with teams: IAM is nuanced and has lots of capabilities. But one of the biggest weak spots is when you're trying to grant permissions across accounts and using rules across accounts . . . My longshot is they're going to fix this and make it easier to know things like: have I given this account access to this, when is it happening, and what's my exposure based on that? All the pieces are there but they need to put them together."
Serverless
Serverless is kind of the mortar that's bringing many of these bricks together, especially when you look at something like Functions as a Service. There's a lot of friction that exists when you're trying to build a well-architected framework using modern design and serverless architecture. And there's a lot of cleanup that needs to be done to remove friction from the developer experience and make things work in a way that is scalable and reliable.
Ben Kehoe, Cloud Robotics Research Scientist at iRobot and AWS Serverless Hero, offers the following serverless predictions for AWS in 2022.
Sure bet: More bridges built between traditional and serverless computing
"I think it's extremely safe to say we'll see services that bring more serverless benefits to less serverless compute and database and etc. offerings. We'll also see serverless services add features that make it more accessible for people accustomed to more traditional architecture," Ben said. "Today, Lambda can be an event source for a lot of things. You can't hook those services to things running on FarGate. Those kinds of things are a gap that I think we will continue to see close."
Even money: More places with third-party integrations (currently: EventBridge and CloudFormation)
"We've seen that AWS has an interest in integrating more closely with third parties in parts of the ecosystem as we've seen with EventBridge and CloudFormation," Ben said. "I think we'll see more integrations and services that are looking to remove the customer effort and make it more native in AWS."
Longshot: AWS announces it will now accept "Lambdas" as a valid term
"In the same way LEGO insists they are not 'Legos' but 'LEGO bricks,' AWS insists they are 'Lambda functions' and not 'Lambdas.'"
Can we get the green-light to just say "Lambdas" instead of "Lambda functions" from AWS officially? Probably not, but it would be kind of cool. (Don't tell Chris Munns.)
Keep up with re:Invent 2021
Keep up with all things AWS re:Invent 2021 by following A Cloud Guru on Twitter and Facebook, subscribe to A Cloud Guru on YouTube for daily updates, and join the conversation on Discord. And if you're feeling inspired to level up those AWS skills, check out our current crop of free courses!