Did you know that 91% of organizations are concerned about cloud security? However, the top reasons for security threats are not being monitored. Are you prepared to protect against a data breach? Our Security Courses are here to help you keep your cloud secure. With 223 hours of hands-on labs and courses from beginner to advanced levels, learn security by doing in these security courses.Our courses come with engaging features like interactive diagrams, hands-on labs in live cloud environments, customizable flash cards, study groups, direct access to our expert Training Architects, downloadable course videos, and more so you can really learn-by-doing and master security in no time at all. Not to mention, you can easily take training on the go with our mobile apps! Get your team on the path to faster cloud transformation – starting with security.
Cybersecurity Training Courses from Linux Academy

Difficulty Level: Intermediate
Course Description: This course is the second part of the Kubernetes Security series, the first part is the Kubernetes Security course, and this part is Advanced Concepts. This course will guide you through implementing network policy. You'll also learn the administrative steps necessary to build, launch and maintain a secure Kubernetes Cluster.
Difficulty Level: AdvancedCourse Description: Get prepared to pass the performance-based Red Hat Certified Specialist in Security exam (EX415) in this course. The exam tests your ability to perform a number of systems administration tasks focused on securing servers. This includes the use of firewalls, USB device restriction, encryption, auditing, compliance, automation, and more.Who should take this course: This course is for Red Hat Certified System Administrators, Red Hat Certified Engineers, or someone with comparable work experience and skills.
Difficulty Level: BeginnerCourse Description: The backbone of securing network communications through encryption are Secure Sockets Layer (SSL) and its successor, Transport Layer Security (TLS). SSL and TLS are the standards widely used today to secure many communication types: websites, email, and many others. In this course, you'll get a high-level understanding of how to implement and maintain an environment that supports SSL and TLS.
Difficulty Level: BeginnerCourse Description: In this course, you'll explore the basic concepts of cryptography and encryption and learn the history of the subject from ancient times to the modern day. You'll also take a detailed look at how encryption works in practice and learn how you can use it to keep your data secure.
Encryption Fundamentals Course Syllabus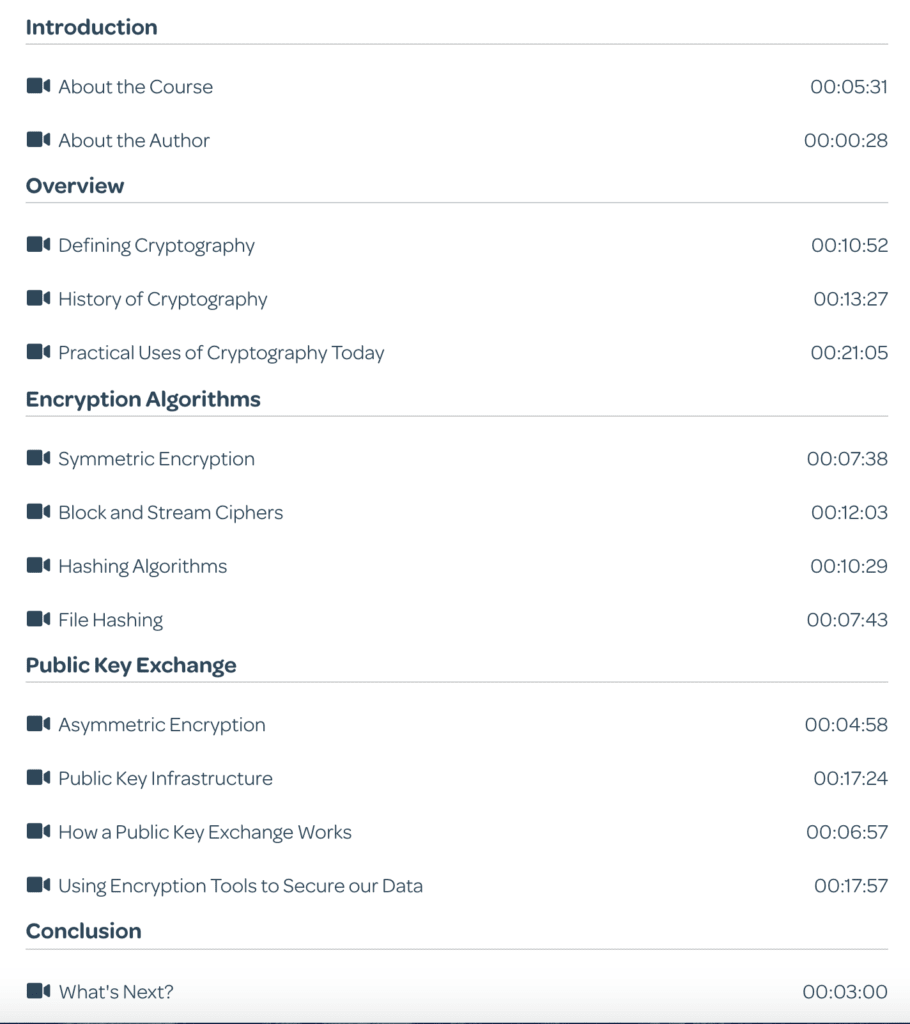 Difficulty Level: IntermediateCourse Description: This course is a deep dive into Kubernetes Security. You'll be guided through the concepts and best practices of Kubernetes Security, and apply your new skills in hands-on examples.
Kubernetes Security Course Syllabus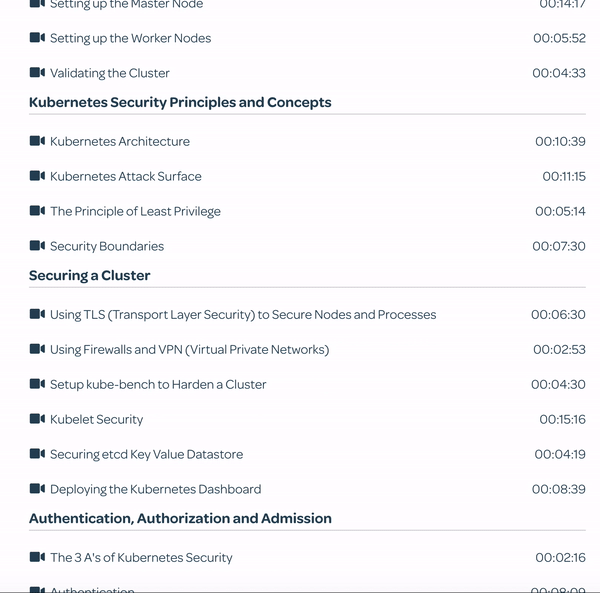 Difficulty Level: BeginnerCourse Description: This course is designed for those who want to become certified security professionals and are looking for jobs that require the CISSP certification. You'll learn about the basics of asset security, cryptography, security and risk management, and various threats and attacks. This is a theoretical course — not a practical one — and you'll learn many regulations, laws, policies, standards, and encryption protocols. With the flash cards, interactive diagrams, video lessons, and instructor support included with this course, you'll be equipped with everything you need to successfully pass the exam and earn your CISSP certification.Who should take this course: In order to become a Certified Information Systems Security Professional, you must demonstrate that you follow the CISSP Code of Ethics, have a minimum of five years full-time paid work experience in the systems security field, and hold an IS or IT degree.
CISSP Course Syllabus

Difficulty Level: BeginnerCourse Description: One of the largest limiting factors for organizations considering migrating to the cloud is: "How do we maintain regulatory compliance in a cloud environment?" This course is designed to give a brief introduction to some of the tools and techniques you can use to help answer that very question.
Compliance in the Cloud Fundamentals Course Syllabus
Difficulty Level: IntermediateCourse Description: As the skills of cyber attackers continue to grow, so should the skills of cybersecurity analysts. These attackers are finding new ways to bypass our toolsets and controls. Therefore, we must continue to adapt and advance our skills in order to combat the attackers and defend our networks. If you're wanting to advance your cybersecurity defensive skills, the CompTIA CySA+ certification is a great place to start your journey.
CompTIA CySA+ Certification Course Syllabus