Have you ever wanted to create your own artificial intelligence solution to make predictions or correctly detect objects in images? Have you ever wondered, "How do I get started with AI?" In this post, we'll talk about how and where to get started with learning the basics of AI, and how to get the most out of AI on Microsoft Azure.
---
Azure your career success
Get started with ACG and transform your career with courses and real hands-on labs in Microsoft Azure, AWS, Google Cloud, and beyond.
---
Artificial intelligence (AI) is becoming more and more common these days. From self-driving cars and home automation to walking, talking robots! Well, not so much on that last one, but we're getting there! (In the meantime, at least we've mastered making robots creepy.)
Ready to learn more about how to being with AI and how Azure can help you kick off your learning journey? Let's dive in!
What is artificial intelligence?
Artificial intelligence (or AI) is the use of software or a computer system to copy the behavior or actions of a human, like speech recognition or visual perception.
As a common example, think of a voice assistant — like Siri, Cortana, or Alexa. These "hear" and respond to voices like a human. Self-driving cars and computers that play chess are other examples of AI.
How do I get started with AI?
Learning a new technology is always daunting. There are so many places to start, and usually the topics end up being very complex — especially if you're coming from a non-technical background.
Unfortunately, artificial intelligence is no exception to that . . .
But wait! The good news is that Microsoft has recognized this challenge and made an AI fundamentals certification (one of the many Azure certifications out there) designed to give you confidence for jumping into AI.
Even better news is that we've made a course here at A Cloud Guru called AI-900: Microsoft Certified Azure AI Fundamentals that is designed to take you from knowing nothing about AI to passing the AI-900 certification!
Do I need to have a technical background to learn AI?
No! Even if you're coming from a non-technical background, our AI-900: Microsoft Certified Azure AI Fundamentals course requires no coding skills. We start with the basics and work our way up until you're ready to ace the AI fundamentals exam.
---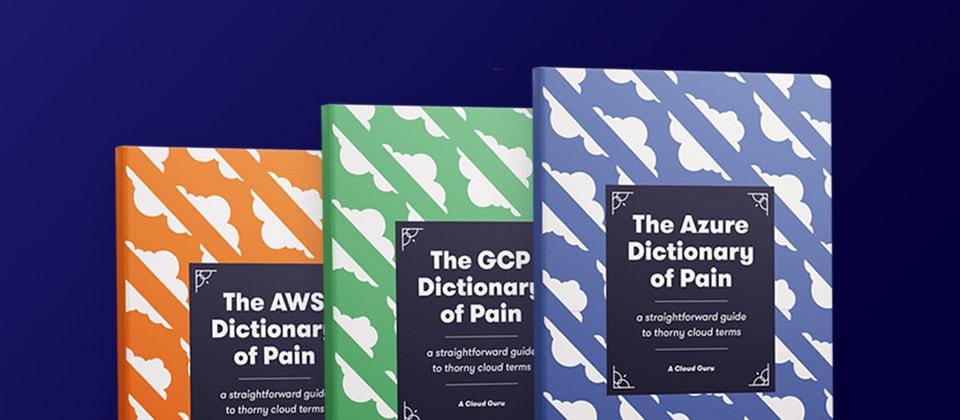 Get the Azure Cloud Dictionary of Pain
Speaking cloud doesn't have to be hard. We analyzed millions of responses to ID the top concepts that trip people up. Grab this cloud guide for succinct definitions of some of the most painful terms in Azure.
---
3 tips to get the most out of AI on Azure
Now that we know where to start, let's have a look at the three ways we can get the most out of AI on Azure.
1. Read the documentation and explore the AI demos
You'll see "read the documentation" come up a lot here at A Cloud Guru. It's not the most thrilling of assignments to be given, but reading the docs is an essential part of working with cloud.
In the context of AI, you should be looking at the documentation for whatever service you are working with.
For example, if you're using Azure Face, make sure you look at the documentation and features it can provide. (Right here.)
When you're starting out, looking at just the overview or quick start is a good place to start.
Once you get more familiar with the service and want to build something then the reference section and how-to guides become very useful.
In addition, make sure you check out the AI demos from Microsoft. These will give you ideas of how the services work and can be used without having to do any coding or setup yourself.
2. Use the machine learning tools on Azure
Machine learning is the foundation for most AI services or features. So, it makes sense that we'll want to have a good understanding of how it works and to utilize the tools Azure provides.
First up is Azure Automated Machine Learning, which is great if you're just starting out as it will help you automate most of the process and just give you a working model that you can deploy and use to start making predictions!
Our second option is Azure Machine Learning Designer. This is great when you get further along and want to design your own pipelines and tweak various aspects to get a better performing model.
3. Get hands-on with the various services
Finally, you'll want to make sure you get hands-on experience with the various AI services. These range from the machine learning options I mentioned above to Azure Custom Vision, Azure Face, and many more.
By getting hands-on, you'll be able to learn how AI works much faster and you'll be in a good position to make your own artificial intelligence solution!
Increase your AI IQ
Now is the best time to get started with AI — and its never been easier! Between our AI-900 course and the tools and resources you'll find online, you'll be able to set up a solid foundation for a future in AI and get a starting point for entering the world of artificial intelligence. Before you know it, you'll be building your own AI solution to take over the world! (Note: please don't create an AI solution to take over the world.)
Want to keep up with all things Azure and cloud? Subscribe to A Cloud Guru on YouTube for weekly Microsoft Azure news (plus news from those other cloud providers too). You can also like us on Facebook, follow us on Twitter, or join the conversation on Discord.