Welcome to March, gurus! We've got some great new courses and labs this month, as well as new episodes of your favorite original series, and some useful platform updates.
Your on-ramp to K8s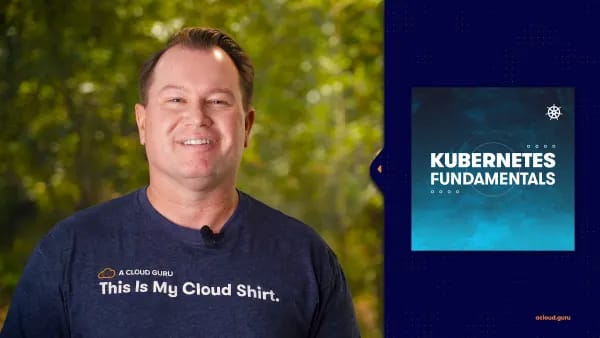 If you've been eager to hop on the Kubernetes train, but don't feel you're ready for our Kubernetes Deep Dive, we've got just the course for you. In our new Kubernetes Fundamentals, you'll learn the, well, fundamentals of Kubernetes. What it is, what it means for the future of deploying and running apps in the cloud, how it works, and how to use it.
It's a great way to warm up for more advanced courses, get your feet wet with containers, or just gain a working understanding of Kubernetes.
GCP Professional Data Engineer
Our newest Google Cloud Platform certification course breaks out of beta and into full release this month. Google Certified Professional Data Engineer is all about advancing your skills in data engineering and machine learning. By the end of the course, you'll be well-equipped to pass the GCP Professional Data Engineer exam, and be able to design and build data processing solutions, operationalize machine learning models, and connect them with the relevant GCP data processing tools and technologies.
Do you need prior GCP experience to take this course? Yes! While you don't need data engineering or machine learning experience, we strongly recommend taking and passing the Google Certified Associate Cloud Engineer exam before tackling this course.
Release Review 302: AWS Deep Learning Containers
In our latest Release Review, Travis Ralph takes a hard look at AWS Deep Learning Containers — Docker images pre-installed with deep learning frameworks to support easier deployment of custom machine learning environments.
Not sure what that means? Let Travis take you through what Deep Learning Containers are, how they work, and how you can quickly get up and running. We evaluate usability, data modeling accuracy, practicality, and discuss a few different container training model deployment avenues. After getting hands-on with AWS Deep Learning Containers, stick around for Travis's pros and cons, and a verdict about whether to invest, evaluate, or revisit later.
ACG Project #303: Canary in the Coal Mine
Have an awesome app that's going to revolutionize an untapped market? Eager to get it in front of users right away, while you keep pushing out features and updates? Dive into application development and no-hassle deployment using GCP's App Engine!
In this new ACG Project from Wes Coffay, you'll learn how to set up a stable Datastore backend, deploy an App Engine application into GCP, update the app and use a canary deployment to test the new version, then roll back to a previous, stable version of the app when a new version encounters errors.
Two new Azure Hands-on Labs
Our Hands-on Lab library gets two new Azure-flavored additions this month. How to Create VNet Peering Between Two Virtual Networks covers how network peering works in three different scenarios: virtual networks in the same subscription, in different subscriptions but under the same Azure tenant, and in different subscriptions and different tenants across the same Azure AD domain.
How to Enable Multi-Factor Authentication with Azure Active Directory is pretty self-explanatory. Multi-factor authentication is an important step toward reducing the security risk of your cloud infrastructure, and this lab walks you through the steps you need to take to switch it on using Azure Active Directory.
We've also got two new Azure Fireside Chats, where Lars sits down with Azure experts Jen Stirrup and Nik Molnar, as well as new installments of GCP This Month and Kubernetes This Month.
In addition to our new course and series additions, we've got a few nifty new platform features to share with you, as well.
Introducing the AZ-900 Certification Accelerator
The ACG Certification Accelerator gives businesses a fast track to cloud training and adoption. It's a scalable, sprint-based program that ACG for Business subscribers can use to lift everyone to a common base of knowledge quickly and efficiently. Our Certification Accelerator focuses on the most in-demand foundational and associate-level certifications, like the AWS Certified Solutions Architect — Associate and Google Certified Associate Cloud Engineer.
Now, we're bringing Azure into the fold with our new AZ-900 Certification Accelerator. Azure has built a good amount of momentum over the last year, and the AZ-900 Azure Fundamentals certification is a great entry point for anybody looking to learn more about Azure and move on to the more advanced certification tracks. If your business is using (or thinking about using) Azure, the AZ-900 Certification Accelerator is your fastest option for bringing a whole bunch of your people up to speed, so you can make more informed decisions and work more effectively in your Azure environments.
Revamped Cloud Profile & Cert Uploader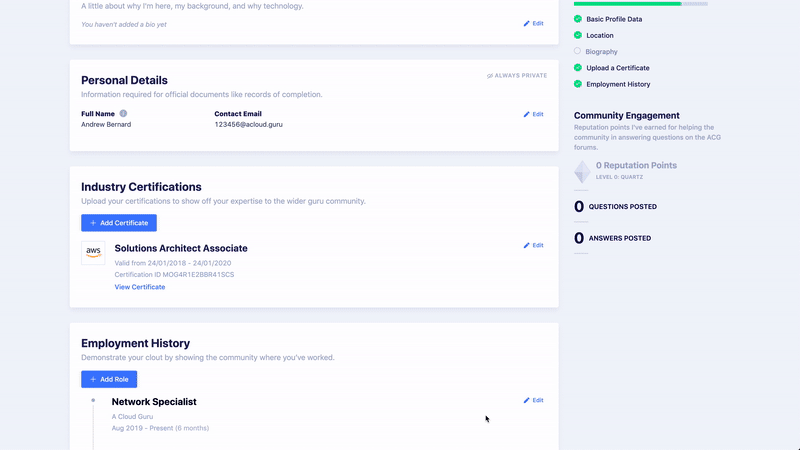 This month we've also revamped the way you share your cloud skills with the world. Our Cloud Profile has received some handy tweaks to give you much more control over what you share, or don't share. Just mark any section as private and poof, it's gone. We've also added an inline editor to make profile changes that much easier.
We've also completely retooled our Certification Uploader to play nice with certifications from all of the major cloud providers. Simply put, if you can earn it, you can probably upload it. So get those certs added and show the world your awesome cloud skills!
Until next month, cloud gurus!
That about wraps it up for this month, but keep checking back for new courses and new features — we've got some really exciting stuff coming in the next few months. Until then, keep being awesome, cloud gurus!