What is Ansible?
Infrastructure as code has changed the way that we plan, deploy, and maintain infrastructure. One of the technologies that made this transformation possible is Ansible. Ansible is a popular orchestration tool used by many individuals and small to large scale organizations, so knowing how to use it can provide a lot of opportunities.
Even if you end up needing to learn other tools in the future such as Puppet, Chef, Salt, or Terraform (read: Ansible vs. Terraform), understanding Ansible and how it works will make it much easier to then learn how to use these other technologies. So don't worry about the"which tool should I learn first?!" question. Just pick one, learn it, and you'll be setup for the future.
With that, let's get started!
Ansible Courses for Skill Levels from Beginner to Advanced
These Ansible courses will take you all the way from a beginner to advanced level, so you can think of this as a Learning Path to go from complete beginner to an advanced Ansible engineer. You'll even have a certification to add to your resume at the end.
Instead of providing videos with powerpoint slides, though, Linux Academy provides Ansible Hands-On Labs so that you can deploy Ansible and learn how to configure it under various real-world scenarios as you learn the different concepts. That way, you're not just watching someone else do it — you're doing it yourself for as many times as you need until you've learned how to use Ansible inside and out.
Keep in mind that the following are just some of the Ansible courses and Hands-On Labs offered at Linux Academy. You can find the rest of our Ansible (and other) content here
Quick start courses are designed to be easily consumable in a short period of time. They provide a higher level overview of the technology being taught, and they are especially well suited for beginners who know nothing or very little about that technology.
These quick start courses are ideal to consume during a lunch break or during your daily commute since they are so short. You can find more of our Quick Start courses here.
Launch the Interactive Diagram.
This quick start includes an Interactive Diagram. Part of learning by doing involves the need to interact with the content you are consuming, instead of simply watching slide after slide. To do this, we've created Interactive Diagrams. These diagrams are custom-built by Linux Academy to match the training material in the course. This means that the content and the diagrams fit perfectly with each other.
As you progress through the course, you can navigate through the diagrams and learn more about the topic. These diagrams are also available to consume independently of the course, by the way. These Interactive Diagrams provide a lot of reference material. Click around and take a look!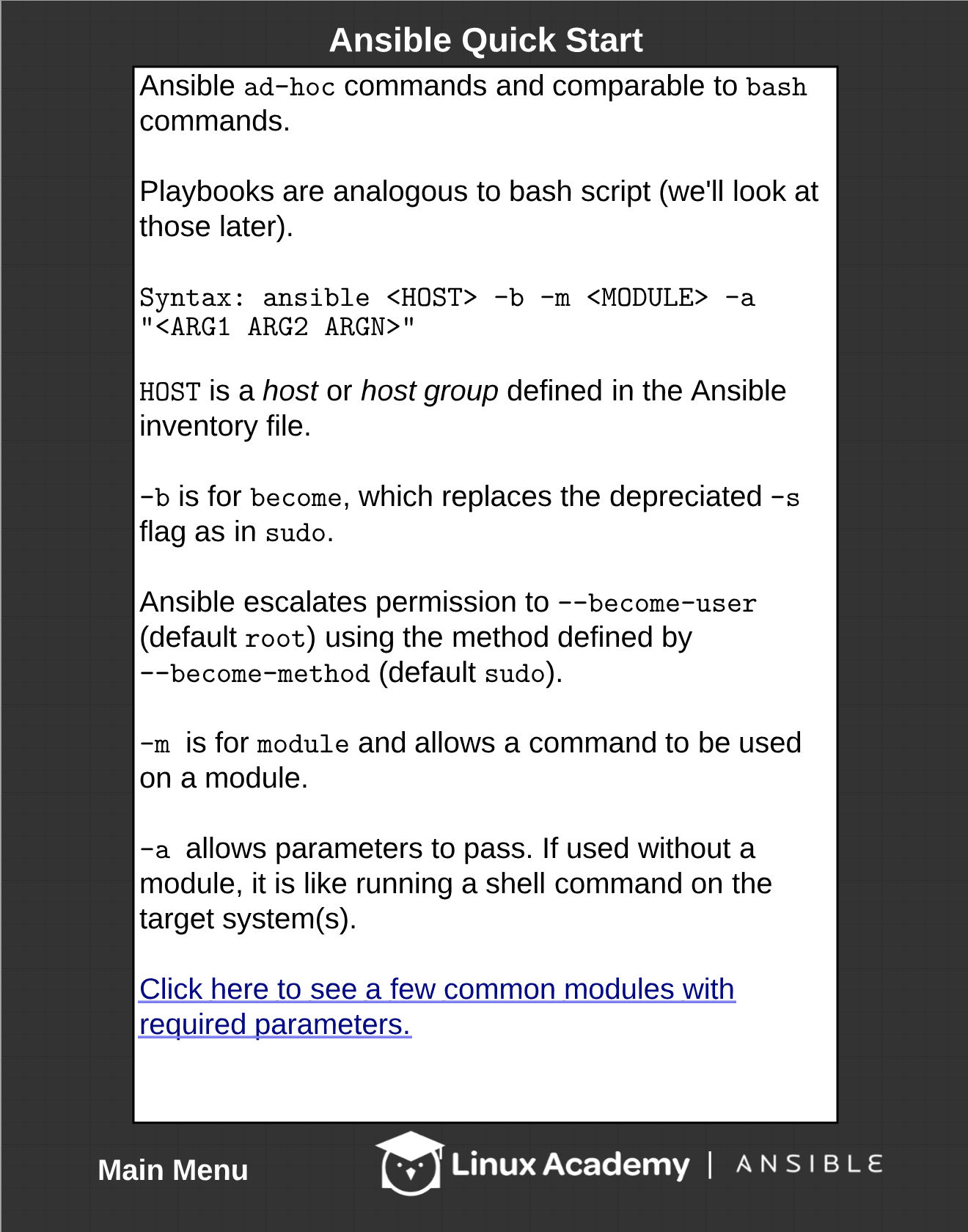 Example of reference material from Interactive Diagrams
While all of our courses include some form of interactive training material such as Interactive Diagrams or Hands-On Labs (or a combination of both!), some of our courses are 100% learn by doing. This is one of those courses, as you can see below with the syllabus:
After completing the two courses above, you will have a thorough understanding of Ansible's foundations, so it's time to take its implementation further. At this point, you will want to look at more specific implementations and use cases. For that, let's take a look at the next course in line – Deploying to AWS with Ansible and Terraform.
In this course, you will use both Ansible and Terraform to deploy a blog on Amazon Web Services. If you've never used Terraform before and aren't sure what it is, or if you're not sure of the differences between Ansible and Terraform, this blog post will explain the differences.
As a result of taking this course, you will be exposed to using Ansible on AWS for a real-world project, and you will also be exposed to using it with other tools such as Terraform. Unless you are using Ansible for a tiny project, you will typically use it with other technologies so it is important to go through this course and understand how that works.
This course also includes a Hands-On Lab environment so that you can walk through the entire course's scenario in AWS. You can also independently consume this lab: Hands-On Lab: Deploying to AWS with Ansible and Terraform.
Once you've gone through understanding the basics and more advanced Ansible concepts, you might want to look into getting a certification to validate the new skills you've gained. Certifications can be a great way to get your foot in the door if you're looking for a new job, or to get that next promotion. This course will prepare you to pass the EX407 certification exam issued by Red Hat.
Launch the Interactive Diagram
As we cover more advanced Ansible topics in this course, it becomes even more important to interact with the content. Being able to visualize architectures, concepts, and configurations is critical to retaining the information.
This course also includes Hands-On Labs — some of which you will have already gone through in the prior courses, giving you a leg up in completing this course and in preparing for the certification exam.
Ansible Learn By Doing Path
To recap, here is the recommended order of courses for you to take in order to go from an Ansible beginner to advanced engineer, and to earn a certification!
To launch your first Ansible Hands-On Lab for free, read this post.For additional reading material regarding Ansible, here are some interesting posts:
Good luck, and let us know if we can help!