What's going on with GCP this month? Well, take off your toque and put down your poutine, because we've got a new region live in Toronto, Canada. We'll also look at news about storage, backup, Eventarc, Pub/Sub, Cloud Functions, and more. So grab yourself a double-double and a box of Timbits, then kick back on your chesterfield as we cover Google Cloud this month from A to Zed.
---
Level up your GCP skills
Get started with A Cloud Guru today and learn by doing. ACG can help you master new skills and transform your career with courses and real hands-on labs around Google Cloud, AWS, Azure, and beyond.
---
New Google Cloud region in Toronto
Of course, we have to start with the gem: Google has added another new region — and this 28th one lands in Toronto, Canada.
From the get-go, this region has three separate zones — and it has support for Compute Engine, CloudRun, GKE, Cloud Storage, Bigtable, BigQuery, Spanner, Dataflow, and more.
Some governments and businesses have data residency requirements, so when this new Toronto region is combined with Google's 15th Cloud region inMontreal, this enables organizations to not only store and process data in Canada, but also to have backups and disaster recovery in a different region still within Canada.
And together with launching this new region, Google has announced a preview of their "Assured Workloads for Canada" offering to ensure compliance. Of course, this new Toronto region can also help by reducing latency to the millions of Canucks living in Canada's biggest city! Granted, Montreal isn't that far away — a bit over 500 klicks — but it still makes a difference.
Of course, all of us in Western_ Canada are hoping for a region in Vancouver, so… Google, if you're listening! Don't be a hoser, and get on it! Give'er, eh? OK. I'm really sorry for all the Canadian jokes. Let's move on to this month's Quick Bites.
Dual-Region Cloud Storage Bucket Enhancements
Google has just announced a couple of upcoming enhancements to Dual-Region Cloud Storage buckets — which, by the way, are still a GCP exclusive in how they are active-active and not just replication.
Anyway, you will soon be able to choose your own pair of regions to use — not just select from Google-offered pairs.
Additionally, even though access via any region is already strongly consistent, what Google is calling their "Turbo Replication" option will guarantee that data is replicated across those regions within a 15-minute RPO, backed by an SLA.
Filestore Enterprise Offers Snapshots and 99.99% Availability SLA
In the File Storage space, Google is adding a new Filestore Enterprise offering to their pre-existing Filestore Basic and Filestore High Scale. All of these are NFS v3 solutions, but this new Filestore Enterprise also supports snapshots and an extra nine of availability: 99.99%, backed by an SLA.
New Backup for GKE Protects Stateful GKE Workloads
Now, if you happen to be using GKE — and using it for stateful workloads — you'll be happy to hear about Google's new "Backup for GKE" offering. This lets you schedule periodic backups of both cluster state and application data, and it supports restoring cross-region, if you want.
Eventarc Gets First-Class Cloud Storage Trigger
In case you're using Eventarc to connect together services and manage events, you may now be happy to hear that Cloud Storage buckets are now a first-class event trigger in Eventarc. Previously, you would have to capture such events through Cloud Audit Logs, which added latency and complexity.
Pub/Sub Topic Retention Simplifies and Reduces Cost
This next bit of news might not seem like a big deal, but it is actually quite a good thing. You can now configure Pub/Sub to retain messages at the topic level, instead of having to do so for each subscription. Not only does this make things simpler, but it can also significantly reduce costs for topics with more than one subscription.
Cloud Functions Gets Support for Min Instances
If you're having trouble with cold starts on Cloud Functions, you'll be interested to hear that you can now set a minimum number of instances that Google will provision for your function. Personally, I think this is most helpful as an optimization on staging and prod to improve your system's responsiveness. When you turn this on, you pay regular price for the memory used by your minimum instances, but quite a bit less than normal for the CPU time.
Cloud Functions Gets Native Secrets Manager Integration
Also, Cloud Functions has just gotten a native integration with Google Secret Manager. No more custom code required.
Cloud Build Builds Integrated into Git Deploy
OK… Here's another cool thing for developers. You can now run 'git deploy' and have it look and feel like a local build even though you're actually getting to benefit from Cloud Build doing the heavy lifting. Once you've triggered it, Google's new local git extension will take care of pushing your code and then finding and streaming the build progress back down to your terminal or IDE. Slick!
Google Cloud Next on October 12–14
Google Cloud Next 2021 is nearly upon us! Google's premier annual conference, happening October 12th to the 14th, will be jam-packed with news and insights about all aspects of GCP, including AI and ML, Application Development and Modernization, Data Analytics, and Security.
Of course, we'll hear from a bunch of Google executives, but I'm particularly interested in the talks by Sara Robinson, Kelsey Hightower, and — one of the people who literally invented the internet —Vint Cerf. The full event catalog is now live. And it is all absolutely free. So go sign up, now!
Keep up with all things cloud
And speaking of free, did you know that A Cloud Guru has a free account tier? No credit card required. You'll get access to a new set of free courses, every month? Check out this month's free courses, and sign up here.
Want to keep up with all things cloud? Subscribe to A Cloud Guru on YouTube for weekly Microsoft Azure news (plus news from those other cloud providers too). You can also like us on Facebook, follow us on Twitter, or join the conversation on Discord!
That's all for this month. Stay safe, take care of those around you, and keep being awesome, cloud gurus!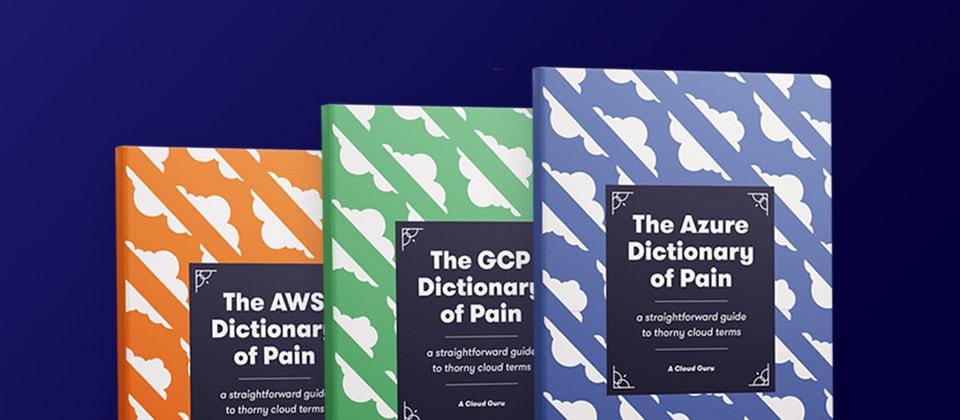 Get the Google Cloud Dictionary of Pain
Speaking cloud doesn't have to be hard. We analyzed millions of responses to ID the top concepts that trip people up. Grab this cloud guide for succinct definitions of some of the most painful terms in GCP.