What's going on with Azure this week? In this post, we'll talk about Azure IoT Plug and Play, open-source video stream-building platformMicrosoft Rocket, and some importantopen-source database improvements
Honestly, Azure news is kind of slow this week. That's right, I said it. (Come on, Azure — put some effort into keeping the sparks alive!) But this gives us an opportunity to highlight some areas of improvement that are important but go unnoticed behind all the hype.
We'll be taking a look at some advancements to our machine overlords (also known as the Internet of Things). We'll get a peek at how Microsoft wants to harness 5G for video analytics. And finally, we'll talk about Microsoft's surprising love affair with open-source databases. Let's get started!
---
Unlock a better career
Get started with ACG and transform your career with courses and real hands-on labs in AWS, Microsoft Azure, Google Cloud, and beyond.
---
Azure IoT Plug and Play
Depending on who you ask, IoT is either a fad, the wave of the future, or an infant version of the robot apocalypse.
No matter where you stand, the hard truth is that traditionally there has been a lot of up-front frustration to get started. Industrial manufacturing, in particular, has bought into and received benefits from connected devices and sensors, but you can imagine how long it takes to get these devices up and running in their existing massive production environments.
Enter Azure IoT Plug and Play.
Simply put, it uses a device model to advertise the device's capabilities to an IoT Plug and Play-enabled application. This makes connection and configuration dramatically easier. And with hundreds of IoT Plug and Play-enabled certified devices in their Azure Device Catalog, anyone can easily get up and running with an IoT solution regardless of their level of IoT expertise.
Microsoft is now joining with even more partners, such as CloudRail and Omnio, to bring Plug and Play capability to a wide variety of IoT-capable sensors and devices that are already deployed. This enables a whole new level of intelligent cloud workloads at the edge.
So if you've been sitting on the edge (wink, wink) and reluctant to futurize your production lines, there's never been a better time to get started.
---
There's never been a better time to develop cloud skills in Microsoft Azure and level up your career. Find out what Azure cloud certification is right for you!
---
Video analytics at the edge with 5G
Our next story didn't necessarily happen this week, but it's also an important ongoing area of improvement by Microsoft in the intelligent cloud. That is in the field of video analytics.
Video is the dominant traffic type of the internet since the arrival of 4G, and edge solutions have been constructed to analyze visual data about everyday situations such as traffic congestion. With the advent of 5G, the amount of data and opportunities for intelligent solutions will only increase.
To meet this opportunity, Microsoft has developed things such as Microsoft Rocket, an open-source platform to make building video streams easy.
They are combining that with the high-capacity and low-latency connectivity provided by 5G to bring video analytics to parking lot cameras with autonomous networks, multi-hop camera networks, and more.
The only question is, can they capture and analyze all of this video while still playing nice about privacy?
Open-Source Database Improvements
Being a data guy, I would be remiss not to mention recent improvements to Azure's database services.
Most people don't think of Microsoft when they hear the words "open-source database", but Redmond wants to change that.
For years we've had Azure SQL Database, and it's become known and loved by SQL Server fans. But quietly in the background Microsoft also made way for popular databases such as MySQL and PostgreSQL to live as PaaS offerings. These are fully managed and scalable services without the taste of evil that open-source fans expect of Microsoft, and they keep getting better.
In the last week, Microsoft has added new capabilities to the open-source offerings, such as improved Citus clusters for PostgreSQL, Azure Pipelines support for both MySQL and PostgreSQL – Flexible Server, Azure Resource Health for PostgeSQL – Flexible Server, and Terraform support for PostgreSQL – Flexible Server.
The addition of Terraform support for PostgreSQL – Flexible Server, in particular, is very exciting. I'm a huge fan of automating "all the things," and with Terraform template-based configuration you can define, provision, and configure your PostgreSQL databases in a predictable and repeatable way. Yay for less human error!
They've even gone so far as to add the ability to have Oracle consistent snapshots using Azure VM Backup 😮. But we won't mention that name anymore, in case they charge us extra for it….
Most of the open-source database improvements are currently in public preview.
That's it for this week Azure fans! Keep being awesome, cloud gurus.
Want to keep up with all things cloud? Subscribe to A Cloud Guru on YouTube for weekly Microsoft Azure news (plus news from those other cloud providers too). You can also like us on Facebook, follow us on Twitter, or join the conversation on Discord!
---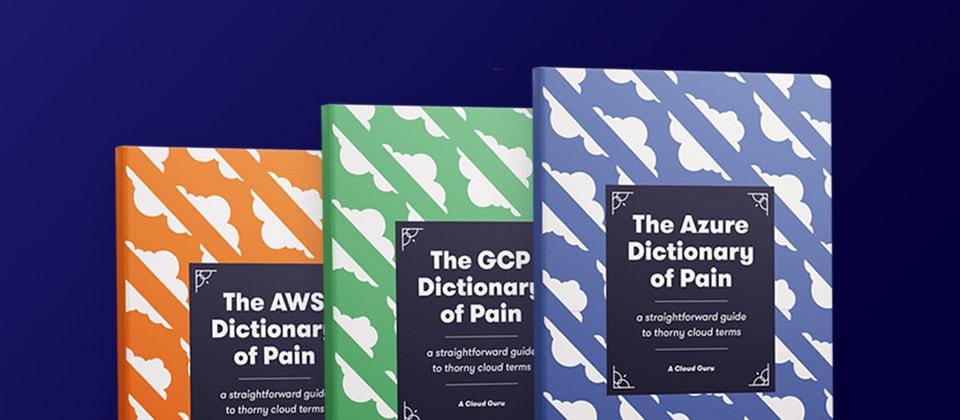 Get the Azure Cloud Dictionary of Pain
Speaking cloud doesn't have to be hard. We analyzed millions of responses to ID the top concepts that trip people up. Grab this cloud guide for succinct definitions of some of the most painful terms in Azure.