AWS re:Invent 2021 is upon us! Whether you're in Las Vegas or watching for free from the comfort of your laptop, there's a lot of AWS goodness crammed into the week. To help you narrow things down, here are six sessions our resident AWS Heroes pick as don't-miss content coming out of re:Invent 2021.
You can check out the list of leadership sessions for the full rundown of these events. And keep up with the week's events using the official agenda, which offers an in-person and virtual view of events. And make sure you've checked out our Ultimate Guide to re:Invent 2021 by AWS Community Hero Mark Nunnikhoven.
Attending in person? Come say hi to the crew from ACG and Pluralsight at booths #1561 and #1557 — and snag yourself some sweet cloud swag!
---
Accelerate your career
Get started with ACG and transform your career with courses and real hands-on labs in AWS, Microsoft Azure, Google Cloud, and beyond.
---
1. Adam Selipsky Keynote
Tuesday, Nov. 30 @ 8:30–10:30 a.m. PST
Is this a safe bet? Sure. But it's also one that we wouldn't miss. This is Adam Selipsky's first show as AWS CEO after Andy Jassy moved over to Amazon.
Jassy's previous keynotes served as a great snapshot around where the industry is at and how enterprises were leveraging AWS services to innovate. It will be interesting to see what Adam offers up this year as we've seen a greater gap than ever between organizations that have gone through cloud transformation and those who are still on the fence.
In this keynote, expect themes to pop up that will set the table for next year. Our guess? We wouldn't be surprised to see things get more industry-specific (think HealthLake earlier this year) as AWS continues to use its broad services to dive into more focused opportunities.
2. Building on 15 years of compute innovation
Tuesday, Nov. 30 @ 1:00 PM – 2:00 PM (PST)
S3 and EC2 are turning 15 this year. To mark the occasion, David Brown, Amazon EC2 Vice President, will talk about how AWS was born and the evolution of the developer experience.
3. Containers on AWS: Everywhere and anywhere
Monday, Nov. 29 @ 5:30 PM – 6:30 PM (PST)
Mark Nunnikhoven drops this as his pick of the sessions. "Containers are pushing the envelope forward for developers and making things easier to adapt to than going fully serverless model mentally, even though that's where we should be going," he said. "But really the reason I picked this is because I want to hear someone from AWS explain this to me. I want to see Deepak [Singh] get up there and say, 'If you want this, pick this!'"
---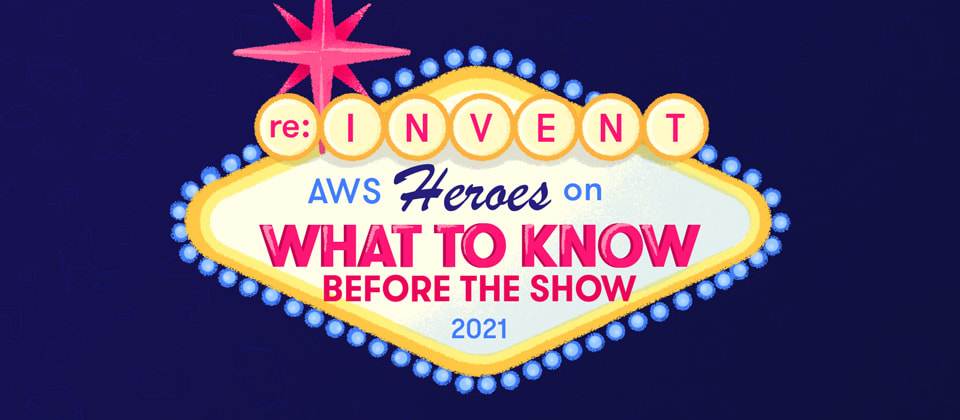 A lunar AWS region? It could happen, right? (Maybe not…) Watch re:Invent 2021: AWS Heroes on What to Know Before the Show for our big bets on what to expect at re:Invent this week!
---
4. Peter DeSantis Keynote
Wednesday, Dec. 1 @ 3:00 PM – 4:30 PM (PST)
There's always a technical keynote at AWS re:Invent on how AWS builds their own infrastructure. Peter Desantis, Senior Vice President, AWS Utility Computing, has covered this area before, and the resulting talk is consistently fascinating.
5. Swami Sivasubramanian Keynote
Wednesday, Dec. 1 @ 8:30 AM – 10:30 AM (PST)
We're expecting a lot out of AI and ML at AWS. "At this keynote last year, I literally jumped for joy when they introduced SageMaker Clarify," said Kesha Williams. "I don't know what I'll be jumping for joy with this year, but I cannot wait."
6. Continuous security improvement: Strategies and tactics
Thursdsay, Dec. 2 @ 1:00 PM – 2:00 PM (PST)
Security is always top of mind, and Steve Schmidt, Vice President and Chief Information Security Officer, will surely offer a solid leadership session on the subject. We're curious to see if any new ground will be tread given that AWS recently hosted its security-focused event, re:Inforce 2021.
Keep up with all things AWS re:Invent 2021
Check out the ACG and Pluralsight re:Invent content hub to keep up with all things re:Invent 2021. You can also follow ACG on Twitter and Facebook, and subscribe to A Cloud Guru on YouTube for all the re:Invent 2021 updates you can handle! And don't forget to join our awesome Discord Community to rub digital elbows with AWS Training Architects and other like-minded cloudy people.