Tech in education has come a long way from the days of old-school computer labs with dot matrix printers and DOS-powered desktops running Oregon Trail. No more pencils, no more books, now it's iPads and Chromebooks. (Or something like that.)
As an industry where budgets can be tight and the resistance to change can be strong, how can the education industry tap into the cloud?
How is cloud computing used in the education sector?
---
Cloud computing growth in education
How the education sector responded to the challenges of 2020
It may have felt like time slowed down in 2020. But, across industries and sectors, the year caused many organizations to put the pedal to the floor when it comes to digital transformation. Education is no expectation.
But with so many legacy systems and processes in place, innovation in education can feel as far off as summer break on the first day of school. Fortunately, many of the challenges COVID-19 has presented in education can be addressed with cloud.
Whether it's in K-12 and primary schools, higher education, or ed tech, cloud computing can transform education — for educators, students, and those who support them. It's probably no surprise then to hear that education-focused cloud computing is projected to hit an estimated market value of $25 billion this year.
So what is the value of cloud and cloud solutions for the education industry today? And what does it take for organizations in education to adapt these approaches and reap the real benefits of cloud computing?
Here are some ways various educational organizations are plugging into the benefits of the cloud.
---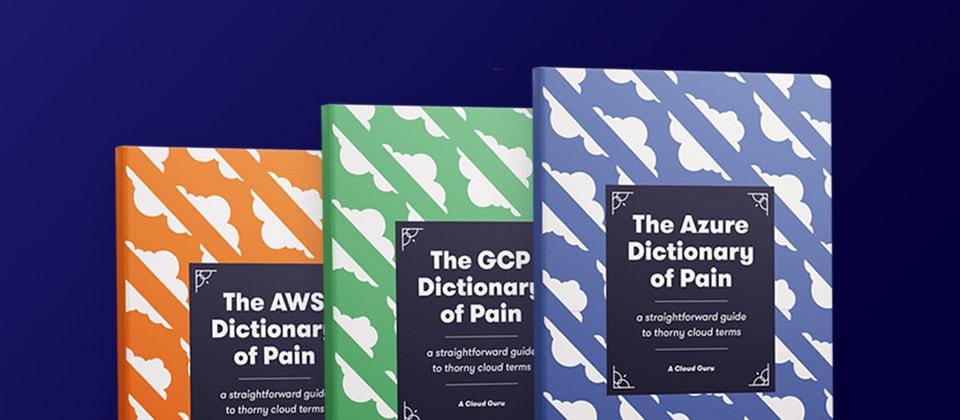 Get the Cloud Dictionary of Pain
Speaking cloud doesn't have to be hard. We analyzed millions of responses to ID the top concepts that trip people up. Grab this cloud guide for succinct definitions of some of the most painful cloud terms.
---
What are the benefits of cloud computing in education?
First, why do educational organizations invest in the cloud?
To break it down to the most elementary level, the benefits of cloud in education are around achieving the maximum result with minimal expense. The "results" can vary depending on your desired outcome but can include cost savings, security, flexibility, IT simplification, and more.
Here are some of the big benefits of cloud across higher education, K–12 and primary schools, and ed tech.
1. Gain flexibility
Cloud solutions for the education industry give organizations in the industry the flexibility to respond immediately to changes — like (just as a totally random example) moving suddenly from in-person to remote learning.
With the cloud, organizations can crank up or down resources as needed without all the time-consuming, costly, and (sometimes) painfully bureaucratic planning required to set up on-premises hardware.
Need access to bleeding-edge hardware to do the heavy lifting for research? Cloud gives you access to the tech tools you need with a few mouse clicks, and you pay only for what you use.
The cloud also gives the elasticity to automatically increase your tech capabilities to handle a rush of demand. With on-premises hardware, a sudden, unexpected rush of people accessing a server can bring everything to a halt. But the cloud can scale up to handle demand automatically — or make adjustments based on your criteria.
2. Reduce costs and complexity
Cloud gives organizations flexibility — the kind ideal in budget-conscious organizations with ever-shifting needs, shrinking budgets, and ballooning demands. (Sound familiar?) When you only have to pay for what you use, you can have access to tools when you need them and not pay for them when you don't. Think about it like ordering a Lyft rather than buying a car.
A traditional IT approach to scaling up is expensive and slow. It takes planning, requires hardware at an upfront cost, and IT specialists to set it up and keep it running. With cloud, much of that work is handled by your cloud provider (e.g., Amazon Web Services or Microsoft Azure).
Humber College in Canada was able to save $500,000 annually and improve their IT helpdesk service by investing in cloud.
It's important to note here, without the technical staff needed to plan and execute your cloud migration properly, cloud spend can get out of control. This is where building up cloud skills is essential. Moving to the cloud isn't inherently a money-saving move if done sloppily. (To oversimplify things a bit, let's return to our above example: taking a Lyft can be more expensive than owning a car if you're taking multiple too many long trips a day.) However, cloud allows organizations to move from CapEx to a OpEx model — or to move from big upfront investments to smaller, predictable monthly ones.
Maintaining tech is (literally) a full-time job. Cloud simplifies IT and frees up educational IT staff to focus on organizational objectives — rather than the tedious maintenance of hardware and software.
3. Ensure reliability, security, and compliance
The major public cloud providers run worldwide, world-class networks of cutting-edge facilities. They serve thousands of organizations in the education industry, which means they're most likely able to meet any reliability, security, or compliance requirements you might have.
Keeping sensitive student or financial data in the cloud rather than on a hard drive can prevent data from getting compromised if a device is stolen or misplaced.
Cloud providers are able to keep latency low and deliver near unparalleled data backup and disaster recovery.
As opposed to custom-built solutions that may be frankenstein-ed together, cloud providers can ensure your tools are easily accessible to students, parents, teachers, and faculty anywhere on nearly any device (with an internet connection, obviously).
---
Automating AWS Cost Optimization
AWS provides unprecedented value to your business, but using it cost-effectively can be a challenge. In this free, on-demand webinar, you'll get an overview of AWS cost-optimization tools and strategies.
---
How is cloud computing used in higher education?
Innovative approaches allow organizations to turn challenges into opportunities for improvement. How's that work in higher education?
John Kitchen — director of client success, ITS, at Widener University — sums it up well: "Higher education is facing a truly unprecedented situation this school year . . . Now is the time for academic IT leaders to consider the financial and operational benefits of cloud migration that can help institutions stay online and thrive."
How can higher education benefit from the cloud?
Implement new platforms and tools
Cloud offers higher-ed institutions the ability to develop deeper connections via new digital platforms tools and simplifies technology for educators, students, and higher-ed IT staff.
Boost productivity and resilience
At the University of Toronto, investing in Microsoft cloud solutions has helped increase the ability to be resilient amongst unforeseen challenges.

"Over the last few years, the University has made significant enhancements to our infrastructure that will help us get through challenging times, not the least of which is moving to cloud services that are scalable during events like this pandemic," said Bo Wandschneider, CIO at the University of Toronto
Reduce costs with a pay-as-you-go model
The simplification that comes with cloud brings with it some financial benefits. Moving to the cloud can help higher-ed institutions spend their tech investments more wisely, making up for the reduction in funds typically brought in through everything from parking to dining. It also empowers institutions to more easily spin up online-only classes to attract students who might not be ready or able to go back on campus.
Advance research with high-performance computing
Cloud providers can offer the high-performance computers needed to process complex scientific workloads. And with the ability to store (and share) petabytes of data, cloud makes it easier to share results and collaborate with others around the globe.
Tap into machine learning and artificial intelligence
Pulling in more data allows higher-ed institutions to use the power of artificial intelligence (A.I.) and machine learning in education. This can allow for things like learning and content analytics for personalized learning, active learning and experimental design to make learning more efficient, or data mining for cognitive psychology research.
Get answers from Big Data and predictive analytics
Tapping into machine learning in education allows you to get answers out of your data. Cloud tools can help academic IT create and run solutions that can benefit higher-ed organizations — including educational data mining for student success prediction models and analytics that deliver insights around things like student retention and engagement.
Launch fully remote instruction
For higher ed, fully remote instruction can include entirely virtual courses that are (potentially) offered at a more affordable rate to students with less drain on school resources for the institution. These courses can be offered as on-demand lectures that work with nontraditional student schedules. For an example, see The University of Texas at Austin's Master of Science in Computer Science Online program. The university is able to cut fees and overhead while providing flexibility to attract students — and potentially bring in students who may be not eager to get back to an in-person learning environment just yet. It also gives students the option to earn a relatively affordable advanced degree at $10,000 USD.
Spin up virtual computer labs
Support online distance learning by creating virtual campus computer labs. These consist of centrally managed desktops and applications that are secure and accessible via any computer's web browser. This allows organizations to scale up as needed without buying and setting up hardware or IT infrastructure.
Create cloud-based contact centers
Quickly set up cloud-based contact centers for everything from IT helpdesk to financial aid and provide students, parents, faculty, and staff inbound and outbound support.
Get more affordable access to the latest tools
For students and faculty in higher ed, switching from quickly outdated physical books and software to cloud-based tools carries multiple benefits, including accessing tools across multiple devices and offering more affordable access options.

With cloud-based versions of industry-specific applications, students can get hands-on with up-to-date professional tools without paying an arm and a leg for a one-time license. Tools like Adobe Creative Cloud are available as a subscription model, freeing students to pay for a few months during a course — or, as in the case of Autodesk, some tools are potentially accessible for free.
Increase the efficiency of IT management
Migrating to the cloud can help alleviate higher-ed IT resources for heavy processes — like having the structure in place to handle huge spikes in traffic during class registration. Also, moving major administrative services to the cloud enables the IT organization to focus on higher-value activities.

To ensure you're getting the maximum benefits and ROI of cloud migration, ensure IT staff has the know-how needed to marry legacy IT systems and cloud solutions.
Drive innovation with a DevOps approach
While higher ed can traditionally be change-averse, an organizational shift toward a DevOps philosophy can be hugely beneficial to increase the speed of innovation. DevOps brings software development and IT operations together to reduce the time needed to go from idea to implementation with things like CI/CD, site reliability engineering, and automation achieved through tools like PowerShell and Puppet.
---
Cloud ROI: How cloud skills generate real returns
We analyzed information from nearly 100 companies to determine the impact of a commitment to cloud maturity. In this guide, see how much value companies get when investing in cloud skills and technology.
---
How is cloud computing used in K-12 and primary schools?
Cloud brings with it a wide range of benefits to K-12 and primary schools and districts — benefits that are even more noticeable in the new normal of remote and hybrid learning environments.
Teachers know how to teach. School and district IT teams just need to invest in giving them the tools that allow them to take those skills and make them work in a remote or hybrid environment.
How can K-12 and primary schools benefit from the cloud?
Reduce expenses
Portland Public Schools Sr. Director of Technology Travis Paakki came on just as the district's enterprise resource planning (ERP) install was nearing end of life. Rather than invest in more on-premises hardware, he moved to AWS.

"We could either spend $500,000 on new hardware or try out AWS at a fraction of that spend," he said. The district managed a full migration in four months. "Now our annual cost is a third of what it would have been to replace. And we now have increased capacity and disaster recovery – things we didn't have access to with an on-premises data center."
Increase cost-effectiveness without compromising on learning
Outside of Seattle, Puyallup School District was able to quickly adapt to the changes needed in 2020 thanks to investments in Microsoft cloud-based solutions.

Mark Vetter, Executive Director of Instructional Technology, said Puyallup is "using the Microsoft stack as much as we can. Cost-effectiveness comes from taking full advantage of everything we pay for. Whether it's the servers, the applications, single sign-on, and everything we're doing with Intune—pulling it all together as a comprehensive package has enabled us to be very cost-effective… Our transformation to the cloud, Azure Active Directory, and Intune has increased learning while decreasing costs, by using the entire stack effectively. Educators get the apps they require in the classroom while balancing security and policy management from a central location."
Ensure data security and compliance
Working with public cloud vendors can make it easier to meet needs around compliance, like the Family Educational Rights and Privacy Act (FERPA). Compliance is cumbersome, but cloud can help make it simpler.
Improve collaboration
From virtual syncs with busy parents to after-hour student communications, cloud delivers a wide range of tools for real-time collaboration.
Deliver cloud desktops to support remote work
With desktop-as-a-service solutions, IT can provision desktops in minutes and scale up to cover thousands of users in minutes.
Simplify IT operations
Cloud takes the pains of routine infrastructure management away for schools and school districts. Managing arduous on-premises hardware and software-based solutions can become a thing of the past. With an understanding of objectives, the tools out there, and the fundamentals of cloud migration IT staff can begin migrating servers to the cloud — be it migrating to Microsoft Azure or migrating to Amazon Web Services (AWS).

As another example of how the cloud makes things easier for academic IT, see the Charlotte-Mecklenburg school system. By using Google Management Console, the school system is able to more easily enforce safe internet browsing.
Ensure data is backed up
Across industries, end-users have never been particularly known for their ability to properly back up and secure important data. The cloud takes the ball (or, in this case, the data) out of their hands and into an online virtual vault that can be accessed across devices and easily shared for collaboration.
Access the best tools at a better price
Subscriptions for cloud tools are typically less than purchasing old-school software licences. These tools can also be accessed on multiple devices, providing more flexibility to students, teachers, and staff.
---
Watch: The State of Cloud
No one can predict the future, but we asked a panel of very smart cloud pros to try anyway. What does Jassy moving up to Amazon CEO mean for AWS? Is this the year of multi-cloud? Our lively panel weighs in on the year ahead in this free, on-demand webinar.
---
How is cloud computing used in ed tech?
How can ed-tech companies benefit from the cloud? It's all about digital transformation — that buzzword marketers love (and techies love to roll their eyes about).
Going beyond the big but sometimes vague promises, what does digital transformation look like in a real-world ed-tech use case? See education publishing and assessment services company Pearson's move to AWS. The company moved database management from off the shoulders of in-house IT staff to the cloud and cut costs by $5 million in a single year.
"Organizations that approach the cloud intelligently and think about data protection and management will experience great success," said Terri McClure, Enterprise Strategy Group senior analyst, in an interview with EdTech Magazine. Here are a few ways ed-tech companies can experience great success with the cloud.
How can ed-tech companies benefit from the cloud?
Boost business continuity
Cloud infrastructure gives ed-tech companies the high level of availability and resilience the education industry demands. In the event of a "disaster" that brings infrastructure down, cloud providers offer a rapid failover with backup environments on standby that can be scaled up quickly.
Shift IT focus to strategic objectives
To return to a bit from Pearon's AWS success story: "Folks who historically acted as database administrators hardly even touch a database now," said Ian Wright, vice president of infrastructure and operations. "They're doing more high-value work and are enjoying it."

By taking tasks off your IT talents' plates that could be easily automated or handled by various cloud tools, your tech wizards can focus on to-dos that deliver more strategic advantages.
---
Does your team need an IT career development plan? Or, is there another path needed to tackle career development goals? There's no one-size-fits-all solution when it comes to cloud learning. No matter your needs, there's a path for that with ACG Custom Learning Paths.
---
Get actionable insights from machine learning and AI for education
Classcraft creates engaging classroom solutions that use technology to gamify learning. By migrating database and analytics infrastructure to Google Cloud, the ed-tech company is able to access artificial intelligence (AI) services and data analytics capabilities to generate reports highlighting trends and give teachers suggestions to improve their environments.

"We capture about 10 million new data points every month related to school culture and student performance," said Stephane Guillemette, Classcraft CTO. "Our previous infrastructure couldn't scale to support rapid analysis of all that data. With BigQuery and other Google Cloud tools, we can quickly deliver valuable insights to educators."
Drive innovation
Cloud helps ed-tech companies go from concept to testing and release faster than ever imaginable. Consider the sudden shift to online learning in 2020. To continue serving educators and students during the seismic shift of demand in 2020, educational SaaS provider Blackboard scaled its platform Blackboard Collaborate for 50x its normal user base over a weekend with AWS. This move helped them to continue providing educators and students with a well-developed online learning experience with hands-on activities and collaboration like seen in a regular classroom.

"Over time, we just continue to use that [AWS] partnership to increase our pace of innovation — and to stop us from creating things that are already out there," said Kathy Vieira, Blackboard Chief Strategy, Portfolio, and Marketing Officer.
Scale up (and down) with demand
Reworking applications into microservices allows for the scalability the comes with the cloud. Meaning your ed-tech company can provision capacity as need during peak usage times and scale back down as traffic drops off. And since the cloud provides a pay-as-you-go model, the whole process is more cost-effective.

Consider Abre.io, an ed-tech company that provides a platform for the tools needed to manage student information and learning management and for connecting students with community programs. "We had to scale our infrastructure to meet the demands of multiple school districts while ensuring quick response times," said Chris Rose, VP of Product and co-founder of Abre.io.

Google Cloud helps Abre.io auto-scale instances throughout the day, saving the company time and cost while providing lightning-fast speeds even during peak usage. "We've grown a lot, but there hasn't been a linear impact on our budget," said James Stoffer, CEO of Abre.io. "We've also not encountered any issues with uptime and latency, thanks to features like auto-scaling in Google Cloud."
Keep sensitive data secure, meet regulatory compliance
Cloud providers make it easy to encrypt data whether it's in transit or rest. This can help ensure sensitive data is only accessible to authorized users. And with cloud-based governance-enabling features, the cloud helps organizations bolster compliance efforts while lowering the cost and difficulty associated with implementing them.
---
Cloud training can benefit education IT staff, faculty, and students
Educational institutions are finding the importance of tapping into cloud training programs. Skill development platforms like A Cloud Guru can not be used to advance the skills of education IT staff to deliver smarter, more powerful digital solutions. But they can also be used to educate faculty and students.
At Miami Dade College, it went beyond upskilling teaching staff to providing affordable hands-on tools to train students and a way for students to earn cloud certifications that they can take out into the workforce to be more marketable. Cloud and cybersecurity faculty member Dr. Diego Tibaquirá requires students to complete A Cloud Guru courses as a percentage of their grade to increase their chances of getting certified. "We want the students to get the grade, pass the class, get a degree, and have the certifications because that's going to make them that much more employable when they get out into the real world," Dr. Tibaquirá said. "It ensures that this isn't just another class; it's something they can put on their resume."
At The University of Notre Dame, students are becoming experts in a broad range of AWS with a solid understanding of key architectural concepts. Josh von Schaumburg — Adjunct Assistant Teaching Professor at Notre Dame's Mendoza College of Business and Customer Solutions Lead at Trek10 — said: "The skills they are learning from A Cloud Guru are reinforced in the classroom with real-world use cases and examples. These are marketable skills which they can talk about when interviewing for a position."
---
Get schooled in the cloud.
Master modern tech skills, get certified, and level up your career in education. Whether you're starting out or a seasoned pro, you can learn by doing with ACG.